SoxDomains has partnered with Incapsula to provide our customers with maximum security and performance. As a SoxDomains customer, you can switch Incapsula from your cPanel with one click!

Advanced Website Security
Protect your website from all threats: spammers, scrapers, hackers & DDoS attacks with Incapsula's Bot protection technology and Web Application Firewall.

CDN & Website Optimization
Accelerate your website by more than 40% with Incapsula's global CDN and content optimization: we compress (GZip & minify) your website

Website Analytics
View and monitor website traffic stats, including human visitors, bots, performance statistics and detailed threat reports.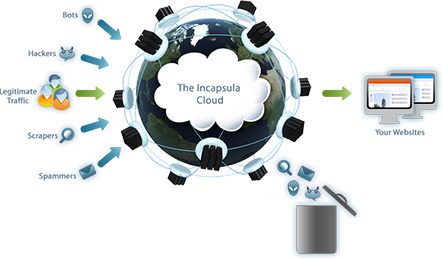 Incapsula provides state-of-the-art security and performance to websites of all sizes and types. Once you switch Incapsula ON through the cPanel dashboard, your website's traffic is seamlessly routed through Incapsula's global network of servers. Incoming traffic is intelligently profiled in real-time, blocking even the latest web threats. Meanwhile, outgoing traffic is accelerated and optimized with Incapsula's global CDN, for faster load times, keeping welcome visitors speeding through.